Having A Day In The NorCal Wine Country?Better have dinner there!
Almost everyone agrees that Sonoma and Napa counties have increased the quality of their wines in the last 20 years. Unfortunately, traffic has dramatically increased as well.
A Tale Of Two Valleys
Sonoma and Napa valleys run  north-south  parallel to each other, separated by a steep mountain ridge. From the central Bay Area these valleys contain the most accessible wineries for a day of tasting.  Access to Sonoma Valley from the central Bay Area is via US  101, the major state artery that runs from Mexico to Oregon. And Napa Valley is similarly accessed  beginning via US 80 then on to State Route 29.  When wine country travelers start their journey from the central Bay Area, both feeder highways begin with 8 lanes for traffic (4 in each direction). But both passages narrow by the time that travelers reach the edge of true wine country.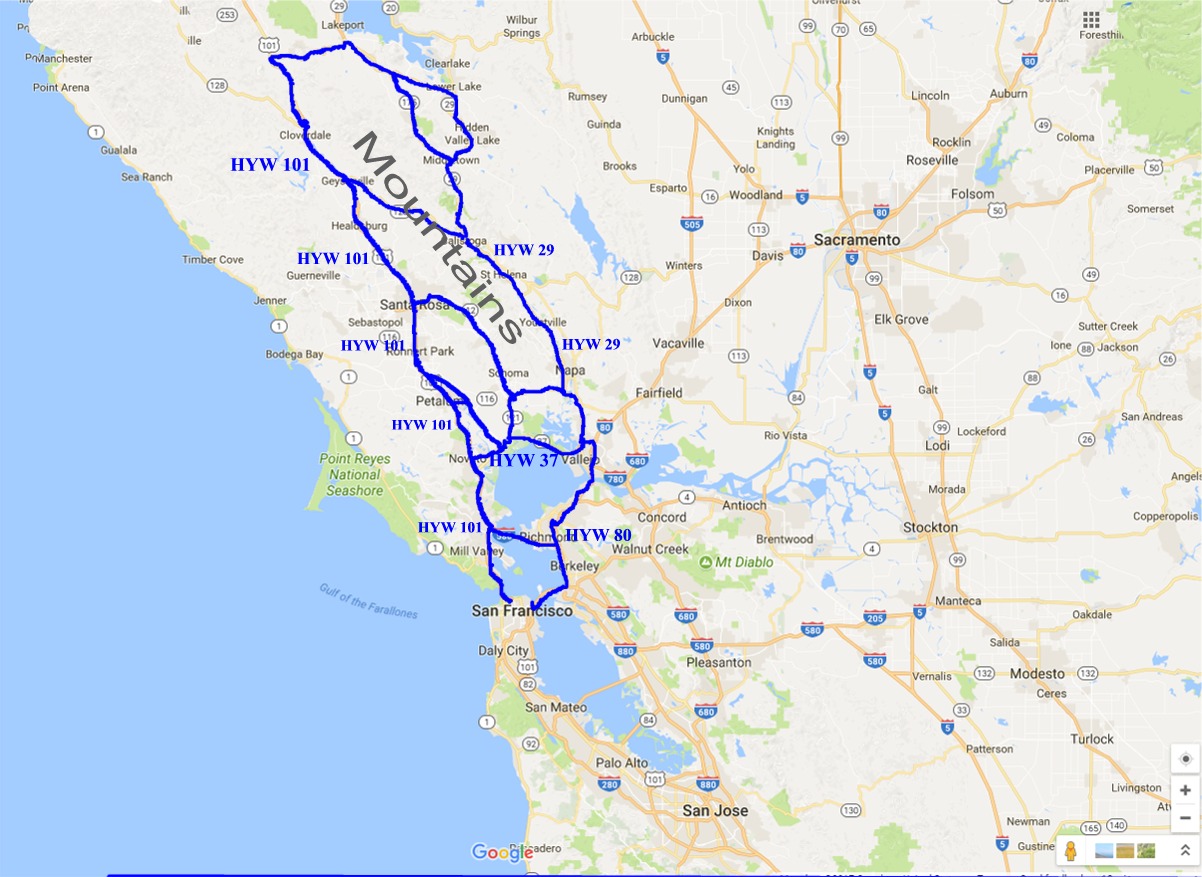 Sonoma and Napa valleys are favored destinations for both Bay Area based adventurers as well as visiting pleasure and business travelers. In the summer, those combined visitors overload the wine country's limited roadways and upset many travel schedules.
Traffic Relief Is Not On The Way
Both Napa and Sonoma have no plans to expand their highways or rural roads despite the influx of tourism. Although many believe that Napa, Sonoma and Mendocino have become sort of a huge gastronomical  Disneyland, most local residents and county officials realize that ever increasing tourism will be a downward social and financial spiral affecting infrastructure costs, income disparity and real estate prices. Much of the wine country success is owed to field laborers that live locally, and residential and agricultural real estate prices affect the winemaker's ability to remain competitive.. So locals and government officials agree that they want no new roads, and if you find it too inconvenient, locals say "party elsewhere".
Timing Is Everything
So, begin your explorations by leaving early and get to your wine country destination at least before 11 am, preferably before 9:30 or 10. On weekends the Golden Gate bridge at midday takes between 30 minute to over an hour just to cross. When you get to the other side, the freeway is 8 lanes but if it is a weekend, the traffic crunch will be worse than rush hour at 7:00 am on a workday. By the time you get 20 miles north of the GG Bridge, 101 will narrow to 4 lanes and traffic will crawl for many miles.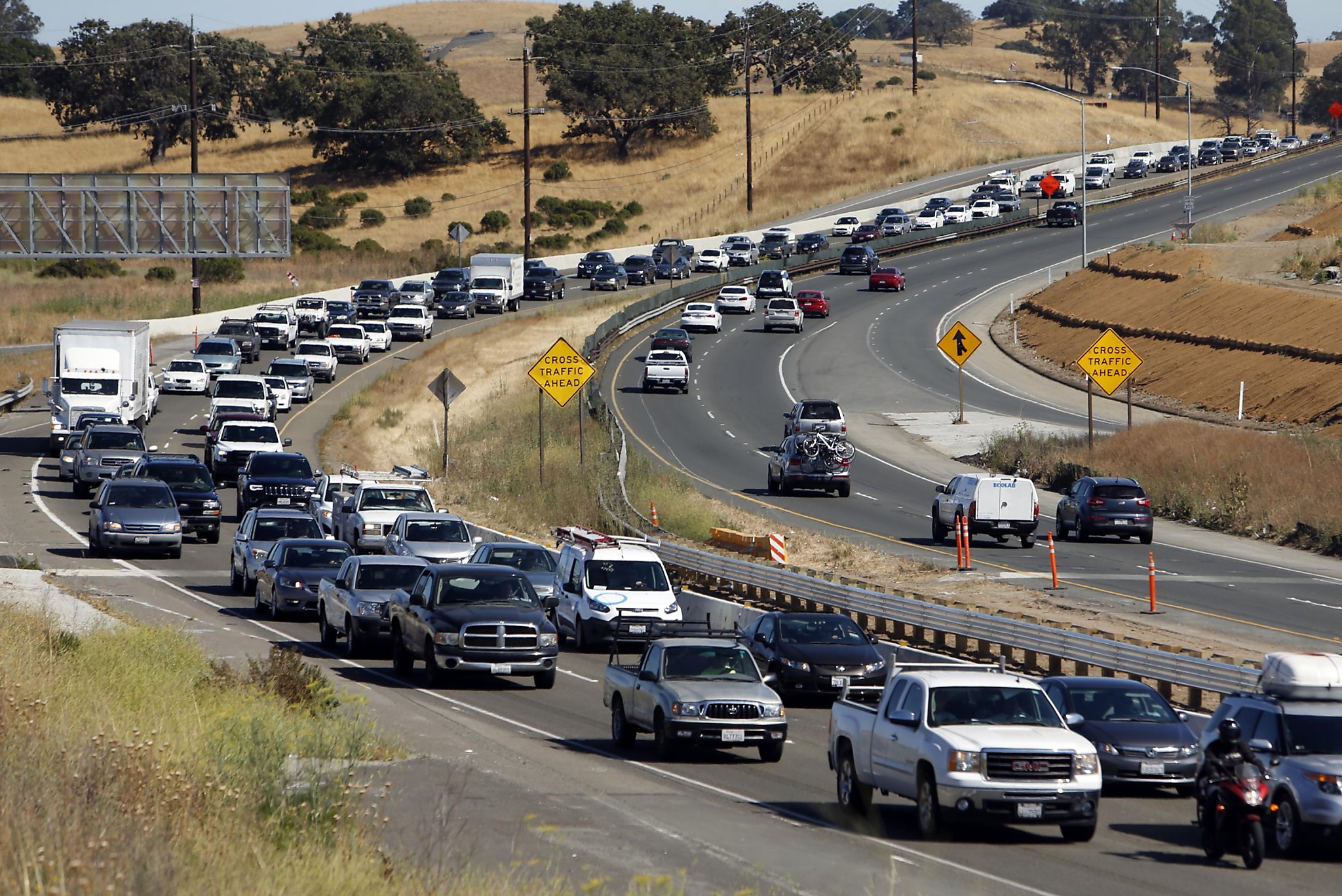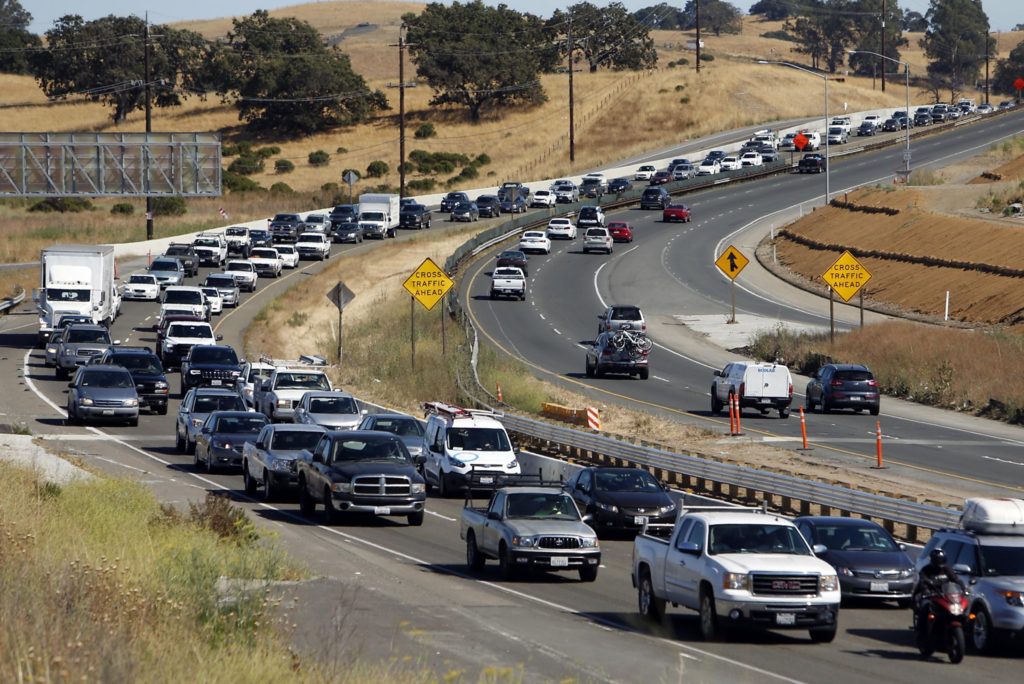 Likewise if you are headed up Highway 80 to State Route 29 to visit Napa wineries, by 10 am even the beginning of the highway north of Vallejo will be stop and go. Don't despair, if you can schedule arriving in wine country early enough, your trip there from the central Bay Area will take about 90 minutes.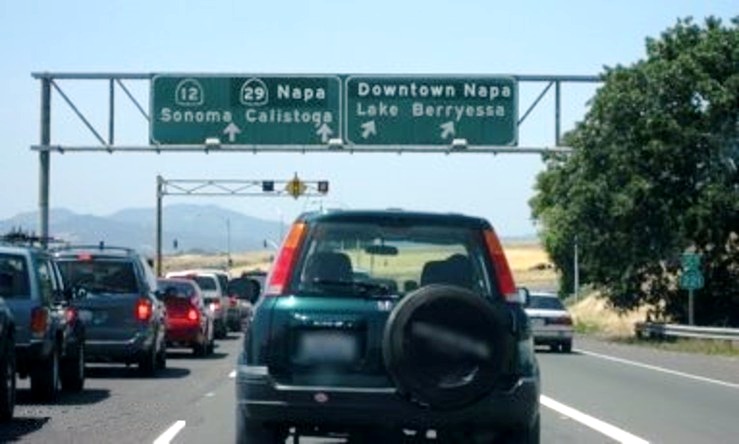 Use Caution On Scheduling Your Return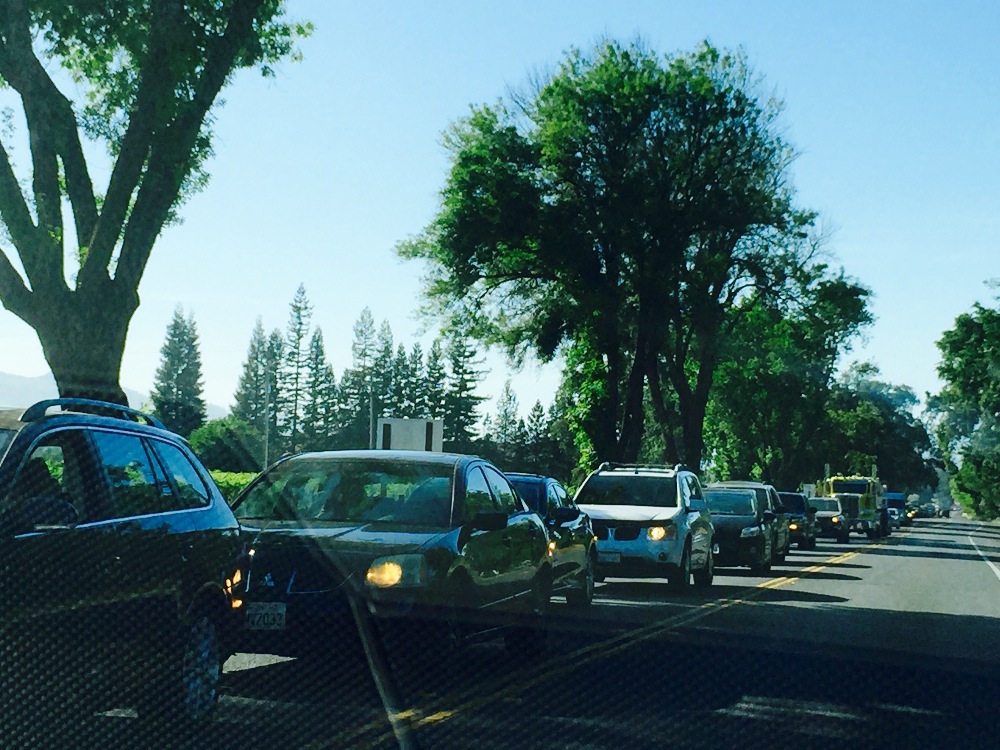 Much of the wine country is serviced by 2 lane roads. If you finish a day of wine tasting late in the afternoon and are looking to return to the central Bay Area for a restaurant dinner, you will probably not get back before the restaurant closes.
It is best to dine in the wine country and you should make reservations days in advance as the many good restaurants will be booked up. Make sure that you pick a dinning location close to the last winery that you plan to visit as nearly all the roads in the wine country are just two lanes. By 3:30 in the afternoon the roads are bumper to bumper and everyone is just rolling along with their feet off the gas pedals.
.Dire traffic delays are avoidable. Once again timing is everything.
If you do decide to leave the wine country after 3:30 in the afternoon, budget 2.5 -3.5  hours to get back to the central Bay Area
Get up there early, have dinner there and get home after the crunch.
Do your wine country exploring in the middle of the week rather than weekends or holidays.
As a possible alternative, try off-season excursions during the winter months. Nearly all the wineries will be open and also the restaurants will welcome you with open arms.
Some corporate business travelers with business appointments in the central Bay Area frequently book a separate hotel/B&B in the wine country for their personal day of exploring, thereby avoiding the commute issue altogether. Local hosts are experts in connecting guests with appropriate tour providers and suggesting wineries based on tastes and budgets.
If you are part of a touring group, designate one person in your group as the driver.
But whatever you plan, definitely spend at least a day in Northern California's fabulous wine country. The beautiful venue is simply unmatched in the U.S. and must be experienced.
Quicksilver TownCar Service
http://qstc.net
Want help with your Bay Area Itinerary?
Call Us (650) 589-4500
Email us at customercare@qstc.net
#sonomatour #sonomatravel #napatour #napatravel #winecountry
#winetasting #sanfranciscotour #sanfranciscotravel